red condor spam filter support
This page summarizes the Red Condor filtering system. Visit
Red Condor's FAQ
page for more questions and answers.
your daily digest email
information and links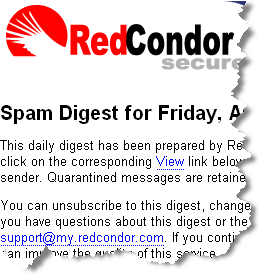 Each person with Red Condor filtering enabled should receive a daily email called the Spam Digest. It has some instructions for using their services and and it shows email "quarantined" the day before.
Save the most recent copies of these emails because they have a link for you to connect to your Personal Dashboard web page. This area of their site will allow you to change your filtering preferences, and if you are an administrator for your company, you will be able to run some reports for all email accounts.
the quarantine list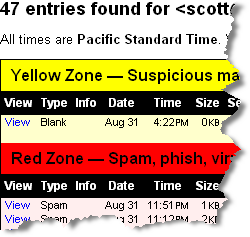 The held mail section will have colored headings indicate the type of held mail. Yellow is suspicious and Red is potentially dangerous. For the most part, you'll see mostly the Red category.
All times shown will be Pacific Standard Time, so that may throw you a curve if you think there hasn't been any mail in the last two or three hours.
Each quarantined email will have a View link next to it. If you think the email was not spam or junk, you can click View to see the message on their website and then forward it on to you if it's not spam. You may also whitelist the sender's email name or the entire domain (company.com) to prevent blocking those emails in the future:

your personal dashboard
When you click on the Personal Dashboard link in your digest email, an Internet browser window should open and show two tabs for settings and quarantine review.
quarantine review

Pick your time frame and sort sequence, then click the Find button to show all emails that were caught and held in that time frame.
settings
Digest Options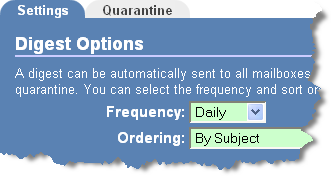 Click the Settings tab to see or change the way Red Condor filters your email. The first option is how often you get the Spam Digest and how it sorts.
Filter Options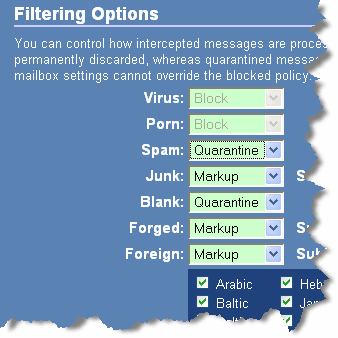 For filters you have several choices of what you want done with various types of suspicious email:
Allow - let that kind through.
Markup - let the email through, but add some text to the subject line (and you get to edit the text in a Subject Tag textbox to the right).
Quarantine - Red Condor holds the mail for a while.
Block - the email is not allowed through at all.
For the Foreign and Attachment categories, use the listed checkboxes to tell Red Condor which emails to apply that filter to (we are not sure if the Country filter works correctly yet).
Whitelist and Blacklist Options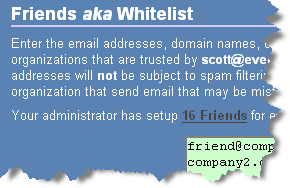 For the Whitelist (friends) add emails (name@company.com) and domains (company.com) that you want to always allow through. Note that there may be global settings already in effect for your company. So you may want to check that list before adding it again to your personal whitelist (see the link shown).
The Blacklist is the opposite. Add emails and domains that you never want to allow through, even if not seen as spam.