pdf support
cutepdf
There is a great little PDF writer program available for free called CutePDF that you can download and install on any computer. They also have a Pro version for a fee if you would like more features in creating your PDF's (like appending multiple printouts together in a single PDF).
This program will allow you to print just about anything to a PDF formatted file suitable for emailing or long-term storage. We run our month-end accounting reports and print to PDF files to keep for future reference or emailing to our accountant.
Installation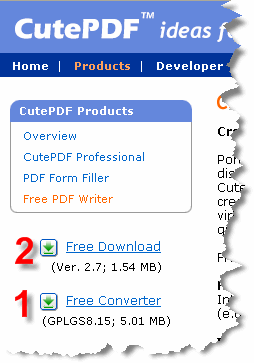 You need to download and install two programs from their web site. Note, however, the order in which you need to install them:
You will need to download and install the "Free Converter" first (#1 on screen shot). It is a public domain PS2PDF converter that is required for the CutePDF writer to work.
Once the converter is installed, click on the "Free Download" (#2 on the screen shot) to get the actual CutePDF Writer program and install it.
You may have to reboot the computer to get the PDF writer to work.
Using It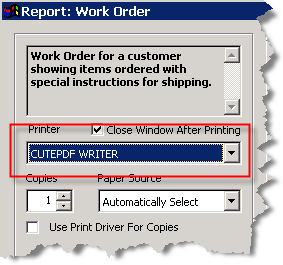 Once installed, the CutePDF printer should be available like any other printer installed on your computer. When you go to print a document, report, invoice, etc. from within a program, look at the printer selection window and change the printer to the CutePDF writer.
When you print to it, CutePDF will prompt you for a filename. You can pick folder to save to, but it probably will default to My Documents.